How To Bulk Delete Emails From Yahoo Email?
In case you have a Yahoo Email lot of contacts, it is quite understandable that your Yahoo account mailbox must be flooded with emails. There are chances that most of your emails are useless and unwanted, so deleting them is one perfect solution. But when it comes to removing all the unnecessary emails, the manual process is a lengthy approach.
Luckily, Yahoo mail provides you with an opportunity to select each and every email altogether and delete them. After that, if any important email has been selected, you can deselect it and go ahead with deleting the unwanted ones. Here is a look at some best advice, which you can apply to delete thousands of emails from the Yahoo email account:
Manual procedure to delete all emails
If you are one of those users who are finding ways to delete Yahoo emails, then the procedure given below is the perfect fit for you. Have a look:
Use Yahoo mail to delete Yahoo emails
If you have been looking for a simple procedure to go ahead with, this is something you can go for. All you can do is to find the emails in the incoming folder and then delete them altogether by selecting every message. Here is a look at some steps you need to implement for the same:
First of all, you will have to open the Yahoo Mail
Go to the search button which is there on the top right
Head to the drop-down arrow. You can find it in the filter bar.
Click on the 'Select all' option from the drop-down menu and now you will have to pick all the received emails.
After that, you will come across two alternatives. Click on the delete button to remove all the emails permanently or click on 'Archive' in order to archive them all.
Once you are done with the above steps, your Yahoo mail will be cleared.
Go for 'Clean your Inbox'
Move emails to archive folder
By implementing this method, you have an option to move your emails to the archive folder. Perform the steps given below:
Head to the Yahoo mail page
Right next to the Inbox, you will find a drop-down arrow
Select 'Clean your inbox'
You will find a message pop-up and then click on 'Archive emails.'
It might take some time, which completely relies on the number of emails you have in your Yahoo mail.
Click on the 'Archive' folder to find out all the emails
In order to complete this process, you will just have to make a few clicks. But the issue with this method is that the emails are not completely deleted and you can find them in the archive folder. The benefit of this method is that you can get back all your emails whenever you want, without any problem.
Use an Email client to delete the mails
On the off chance, you want to delete all your emails using Thunderbird or Yahoo mail, you can go through the steps mentioned below:
Initially, you will need to add Yahoo mail to the client. Make sure you sync it with the server.
After that, select the emails, which are available in the inbox folder. Eventually, click on the required button to delete or archive them completely.
In case the users are planning to delete the emails locally on the email client, the 'Delete from server' feature needs to be enabled. This option removes the emails from Yahoo's servers. Although you can find this option in every email client by default, you can go to the App settings to turn it on if it is not there. Let's see how to do it in both Mac and Windows:
How to use Mailbox in MacOS?
After arranging the Yahoo mail in Mailbox, select the inbox folder.
Click on the Edit option and choose the 'Select all' option.
Look at your keyboard and then click on the 'Mac Command' button
You will come across two options: Either you can delete all the emails or archive them all. It is up to your choice.
How to use mail client on Windows 10?
Go to the checkbox option once you are finished with syncing your Yahoo mail with Windows 10
Hit the 'Inbox' option which is there and select all the emails, which you want to remove
Finally, click on 'Archive' or 'Delete' as per your need
These are some of the most common tips, which can help you get rid of all the emails in bulk. So, if you are worried about your flooded Yahoo email, keep all your worries aside. Other than that, you can take help from the Email Eraser tool, which makes the process comparatively easier.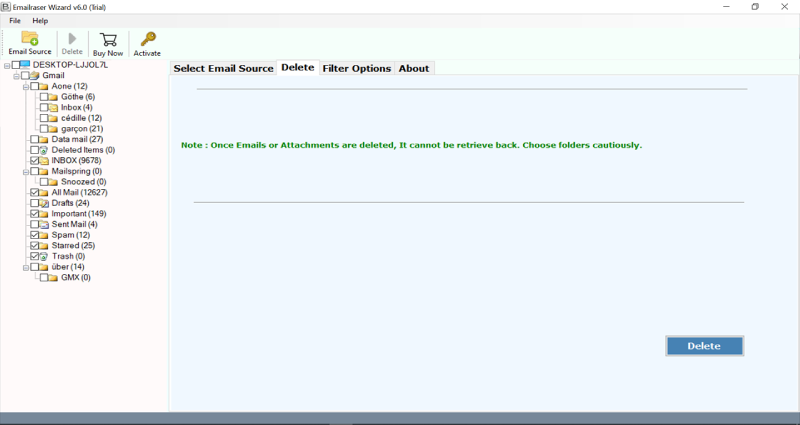 Reasons for using EmailRaser:
Faster approach: With its ability to delete the entire inbox or whatever you want to delete, it becomes a faster method to get rid of them.
Automated: When it comes to the manual approach, there are chances that you might come across certain glitches. While Automated approach makes it easier for you to delete all the emails without any hindrance of error.
Well-structured: Deleting emails one by one is a little difficult task but with the help of this tool, you can simply do it in a well-structured manner.
Less time-consuming: Nobody has enough time these days to sit and select messages one by one to delete. Hence, this approach is less time-taking and people can do it at once. How to Reduce the Queuing Time in Retail Stores?